About Kent Garden Club
 Kent Garden Club members share a love of horticulture, design, civic beautification, and friendship. There are opportunities for gardeners of every kind, from beginning gardeners to Advanced Master Gardeners. A related interest of many of our members is floral design. We offer classes on basics to beginners; and, for experienced designers, a specialization in competitive Flower Show design entries.
Also, as a member of Kent Garden Club, you have an option to further your education through the National Garden Clubs' schools in Landscape Design Study, Environmental Study, Gardening Study and Flower Shows. These schools are available in Michigan and across the country.
KGC has a long history of community projects and civic beautification and is planning several new, exciting projects. We would love your help!
Kent Garden Club is a non-profit organization with 106 years of community involvement.  The Club supports land-conservancy, education and environmental responsibility.  We support Michigan college scholarship programs and the US Forest Service's Loda Lake Wildflower Sanctuary through Michigan Garden Clubs, Inc.  Through the National Garden Clubs, Inc., we contribute to clean water projects in Belize.
Proceeds from fundraisers are, or have been, used to benefit many local organizations; such as, Habitat for Humanity, Ken-O-Sha School, Frederik Meijer Garden & Foundation, Blandford Nature Center, Blandford Environmental School, West Michigan Environmental Action Council, Friends of Grand Rapids Parks,  and the Grand Rapids Public Museum.
We also are proud to provide support to our military and their families through projects such as Blue Star Memorial, Dover AFB Memorial Garden for the Fallen, and donations to the Grand Rapids Home for Veterans.
We are an active year-round club. Generally, we meet the second Wednesday of every month at 12:30 in the afternoon for snacks and socializing, followed by a business meeting and an educational program. Dues are only $20/year. Most of our meetings are held at Frederik Meijer Gardens & Sculpture Park, 1000 East Beltline NE, Grand Rapids, MI 49525. You need not be a member of Meijer Gardens to attend a KGC meeting, but why not plan a day to visit us both?
Contact the Membership Chair at

kentgardenclub1913@gmail.com

for further information and to attend a meeting as a guest. At your first meeting, you will receive a Welcome Packet that includes membership information. Our members look forward to meeting you. Please join us!
Kent Garden Club is proud of its history in the Grand Rapids community. The club's dedication to education, through flower shows and horticultural programs; service, with projects in conjunction with local non-profit organizations; and fellowship, at our club meetings and events, has enabled us to connect with the community for over 106 years. Current activities include enrichment projects with students at Ken-O-Sha School, Blue Star Memorial Highway Garden, civic beautification at the Grand Rapids Public Museum, 6th Street Park, and Canal Park in downtown Grand Rapids, and  enrichment projects with students at  Southwood Elementary School.
Cherry Walk
The Grand Rapids Public Museum in partnership with the Kent Garden Club planted Kwanzan Cherry Trees on the west bank of the Grand River in front of the museum.  The Kwanzan Cherry Tree is a hardy variety known for the beauty of their carnation-like double flowers.  As part of its commitment to community beautification, Kent Garden Club planted nine Kwanzan Japanese Flowering Cherry Trees along the museum river walk.  The trees are 6 to 8 feet tall and will grow to 30-40 feet at maturity.  Trees were donated by Kent Garden Club members and dedicated to a person of their choosing.
Gardening on the Grand at The Grand Rapids Public Museum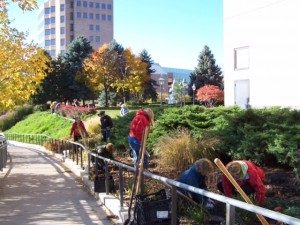 Each month a dedicated group of Kent Garden Club members weed, plant, spread mulch and do whatever is needed to improve the grounds of The Grand Rapids Public Museum. The Museum has only one employee to try to care for the grounds, so Kent Garden club help is needed and much appreciated. Any member is welcome to come on the 3rd Wednesday of the month to help. The Museum pays for parking and offers discounts on snacks and meals in the Museum Cafe. Members may also come at other times – just check in at security. Come and help make our wonderful city even more beautiful.
Great work has been done by many Kent Garden Club members on our project to spruce up the grounds of The Grand Rapids Public Museum. People passing by have commented to Kent Garden Club Members working on the grounds about how lovely the grounds look. Downtown residents have called the Museum and added their compliments.
Any member is welcome to come on the 1st and 3rd Tuesday of the month 9:30 to 11:30 April to November.