KENT GARDEN CLUB
PROJECTS, COMMITTEES, CLASSES*
BLUE STAR MEMORIAL MARKER -A collaborative group of KGC and Holland Garden Club members maintains a memorial marker to honor our men and women service members.  The memorial at the Zeeland I-96 Rest Stop includes plantings that are maintained three times a year.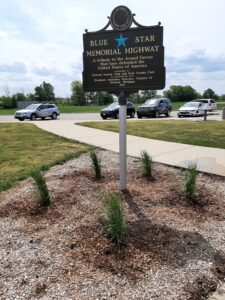 Newly planted with Karl Forester Grasses
FLORA FANS STUDY GROUP – Club members tour local gardens, greenhouses, and businesses to learn about horticulture, landscape, floral design and the environment.
FLORAL DESIGN – Classes in all forms of floral design, from simple arrangements using common flowers, to the intricate designs featured in many standard flower show classes are explained.  Participants gain knowledge of designs, plant materials, flower conditioning, container selection and use of mechanics.
FLOWER SHOW – A committee plans and stages a National Garden Club Standard Flower Show (every other year), which includes floral design, horticulture and educational exhibits.
GARDEN PARTNERS – Members experiencing life events preventing them from tending their gardens will receive assistance for a short term basis from other club members.
GARDEN THERAPY–Ken-O-Sha – A committee plans a monthly horticultural project and assists students with crafts relating to nature.
GARDEN TOUR – A committee plans and coordinates a tour of home gardens and/or public landscaping for community education of plant material and design.  This is a club fundraiser.
GARDENING ON THE GRAND – A Committee volunteers at the Grand Rapids Public Museum grounds to plant and maintain the landscape as a civic beautification project.
HISTORIAN – Members collect photographs and materials pertaining to club activities to maintain the historical scrapbooks.
HOSTESSES – A committee asks members to provide snacks and a decorative arrangement at business meetings on a rotating basis every two years.
MEMBERSHIP –A committee welcomes new members and maintains records of all members and their membership status.
NEWSLETTER – A committee publishes a monthly newsletter, Kent Thymes, which includes KGC projects and their progress, articles about club achievements and structure, and education about NGC and MGC.
SOUTHWOOD ELEMENTARY SCHOOL–Members work with teachers and students in the renovation of raised beds, planting and teaching about square foot gardening.  Students and parents tend the vegetable and pollinator gardens.
WEBSITE – A committee is responsible for updating information about club activities on the website.
WREATH SALE – A committee organizes and coordinates the annual Wreath Sale as a club fundraiser.  Responsibilities include ordering supplies, advertising, promotions, and order pickup.