Michigan Garden Clubs, Central Region, 2018 Awards
First Place Award 3, Planting Community Gardens

Second Place Award 8, Partnering with Girl Scouts

Third Place Award 11, Promoting National Garden Club Week
2017 Kent Garden Club Standard Flower Show, "Music of the Flowers"
 
Award of Design Excellence: midollino, phalaenopsis, orchid, cordyline fructosa
Petite Award:  grapevine, vitis, pussywillow, roses
Designers Choice Award:  hosta, bird of paradise
Table Artistry Award:  thistle, chrysanthemums, iris seed pods, carnations, pachysandra, hosta blooms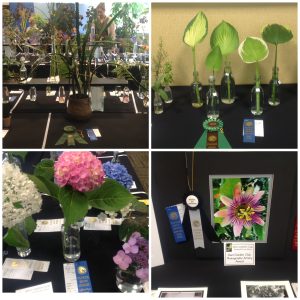 Top Left:  Growers Choice Award, Euphorbia Tritons
Top Right:  Collector's Showcase, Hosta
Bottom Left:  Arboreal Award, Hydrangea
Bottom Right:  Botanical Arts Photography, Passionflower
Award of Merit Winners                                   
 
Top left: Zinnia Elegant
Bottom Left:  Maidenhair Fern
Top Right:  Gloriosa Superba
Bottom Right:  Horticulture Excellence Award, Gloriosa Superba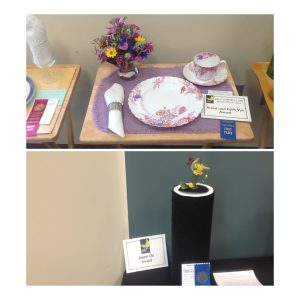 Arend & Edith Vyn Award: outstanding table design
Joann Ott Award:  first time blue ribbon in design division
 Left: 
Peoples Choice for Horticulture
Center: 
Peoples Choice for Design
Bottom: 
Peoples Choice for Photography
Below are photos from the club's 2015 Flower Show called Tranquility!
Congratulations to those who won Top NGC Awards and KGC Local Awards
Award of Design Excellence–Carol Brock
Table Artistry Award–Linda Slagboom
Petite Award–Babs Sharp
Horticultural Excellence Award–Wendy Rodriguez
Award of Merit–Chris Mosher, Ann Carter, Dolores Stouwie, Babs Sharp, Wendy Rodriguez
Arboreal Award–Dolores Stouwie
Collector's Showcase Award–Deannie Picciotti
Growers Choice Award–Joyce Wagner
Educational Top Exhibitor–Gardening: Blandford Environmental School/Landscaping 101
Annabelle Lundberg Award–Carol Brock
Constance Z. Snell Award–Dolores Stouwie
Eva-Maria Renken Award–Joyce Wagner
Joann Ott Award–Penny VandeHaar
Louise Budnick Award–Anne Todd
Virginia Walters Award–Peggy Hartmann
KGC Photographic Artistry Award–Martie Sharp Bradley
Arend & Edith Vyn Award–Lynn Miller
KGC FLOWER SHOW: "Jubilee: Centennial Celebration"
by LYNN MILLER
Our 100th Anniversary Flower Show, "Jubilee: Centennial Celebration", was a beautiful show, and the judges scored it high enough for us to apply for an award. I wanted to share with you two of the notes we received concerning the show.
Julie from Frederik Meijer Gardens wrote: "Congratulations to you and all of the Kent Garden Club members on a very successful Standard Flower Show at Frederik Meijer Gardens & Sculpture Park. You did a terrific job planning and organizing this event and your members did a wonderful job with set-up, greeting guests, answering questions, and taking down the show. During the weekend, 958 people attended."
The judges where equally impressed and one wrote a note saying: "It was gorgeous! I understand that your club has many new members. How lucky are you! The quality of your show was just wonderful! Please let all of your members know what a beautiful show they created. The hostesses in costume were a special touch. Splendid!" Another said, "What a beautiful show for your 100th anniversary". Many hours of planning and staging finally revealed a masterpiece of a flower show. Congratulations to all who worked so hard to give the public a view of your accomplishments."
Thank you to all of our members who entered, served as hostesses, clerks, consultants, and those who did classification and placement. Also, a big thank you to Carol Brock, Melinda Maher, Dolores Stouwie, Donna Koledo, Mary Jo Tholen, and Marianne Warnock for serving as committee chairmen and Penny VandeHaar for picking up extra plants for the children The members who dressed in period costumes added a special touch to the show, as did those that made the educational exhibits celebrating KGC 100th anniversary. The Youth and Photography classes were wonderful!
CONGRATULATIONS to the following members, who won the NGC Top Awards and KGC Local Awards!
NGC TOP AWARDS KENT GC LOCAL AWARDS
Designer's Choice: Cl 3 Lauren Taylor
Annabelle Lundberg Award: Cl 9 Anne Todd
Table Artistry Award: Cl 5 Helen Burkhardt
Constance Z. Snell Award: Carolyn Dee
Tri-Color Award: Cl 7 Anne Carter
Eva-Maria Renken Award: Marianne Warnock
Award of Design Excellence: Anne Carter
Award of Horticulture Award: Gabi Blacklidge
Louise Budnick Award: Cl 4 Jane Quist
Collector's Showcase Award: Joann Ott
Virginia Walters Award: Cl 1 Anne-Lise Whitescarver
Arboreal Award: Dolores Stouwie
Ruth Esler Award: Kelly Doyle
Grower's Choice: Gabi Blacklidge
Joann Ott Award: Joyce Wagner
Award of Merit: Cl 27 Anne Carter
Top Educational Award: Loda Lake
Award of Merit: Cl 47 Dolores Stouwie
Top Youth Award: Cl 1-2 Paige Deppe
Award of Merit: Cl 65 Dolores Stouwie
Artistic Craft Award: Kathy Miller
Award of Merit: Cl 74 Carolyn Dee
People's Choice Design: Dolores Stouwie & Carol Brock
Award of Merit: Cl 88 Adele Khrovsky
People Choice Horticulture: Carolyn Dee