EDUCATION, EDUCATION, EDUCATION, AND EDUCATION
By Gabi Blacklidge
Members who participated in our 100th Anniversary event will remember the wonderful historical play composed and directed by Adele and Karin and played by a joyful cast of characters. In it, we learned the essence of Kent Garden Club was discovered in a discussion about plants.  Members came together in l913 to educate themselves about horticulture. Our history book cites examples of membership and community educational projects in the early years.
Fast forward to the l992 incorporation of Kent Garden Club and the written statement goals, one of which reads: To provide education, resources and networking opportunities for club members to promote the love of gardening, floral design, landscape design and civic environmental responsibility.
The IRS asks charitable organizations to meet these requirements: The exempt purposes set forth in section 501(c)(3) are charitable, religious, educational, scientific, literary, testing for public safety, fostering national or international amateur sports competition, and preventing cruelty to children or animals. As you can see, Kent Garden Club's non-profit, charitable designation fits in the area of educational advancement.
Finally, you will remember we have taken two membership surveys in recent years, both with the same result.  Education topped the list of members' interests.
Over the years, KGC members have enthusiastically supported an emphasis on education by their participation in flower shows and garden tours open to the public.  KGC has also educated future generations by hands-on gardening with children through Junior Master Gardener programs, activities at the Salvation Army, Blandford Environmental School and Ken-O-Sha School.  KGC donations support MGC scholarship programs for college students.
A quest for knowledge is constant. Knowledge can be life-enhancing and unifying. The essence of Kent Garden Club was founded upon, and has sustained a focus on continuing education in the topics of horticulture and floral design throughout its one hundred year history.  It can sustain us for the next one hundred years.
Celebrating 100 Years
The most important event of the 2013 spring season was the 100th anniversary celebration of the founding of Kent Garden Club (KGC). What began as a small argument amongst friends about how to pronounce "anchusa," a vigorous herb with tall stems of bright blue flowers shooting up from clumps of bright green leaves, became an important civic minded gathering of women who shared their gardens and horticultural experience, amongst not only themselves, but with the community at large. In celebration of the fifty women who were our founding members and all the others who have taken an active part in the growth and continuity of Kent Garden Club's founding principles, we held a celebratory luncheon at the Women's City Club, a lovely two story Italianate Villa built in the 1860s and home to many meetings of KGC. Amongst the dignitaries in attendance were our membership, the former city historian, the mayor of Grand Rapids and the president and president elect of the Michigan Garden Clubs. A pianist, a barbershop quartet, a lecture about the history of Grand Rapids, and a play by members highlighting our greatest achievements entertained us.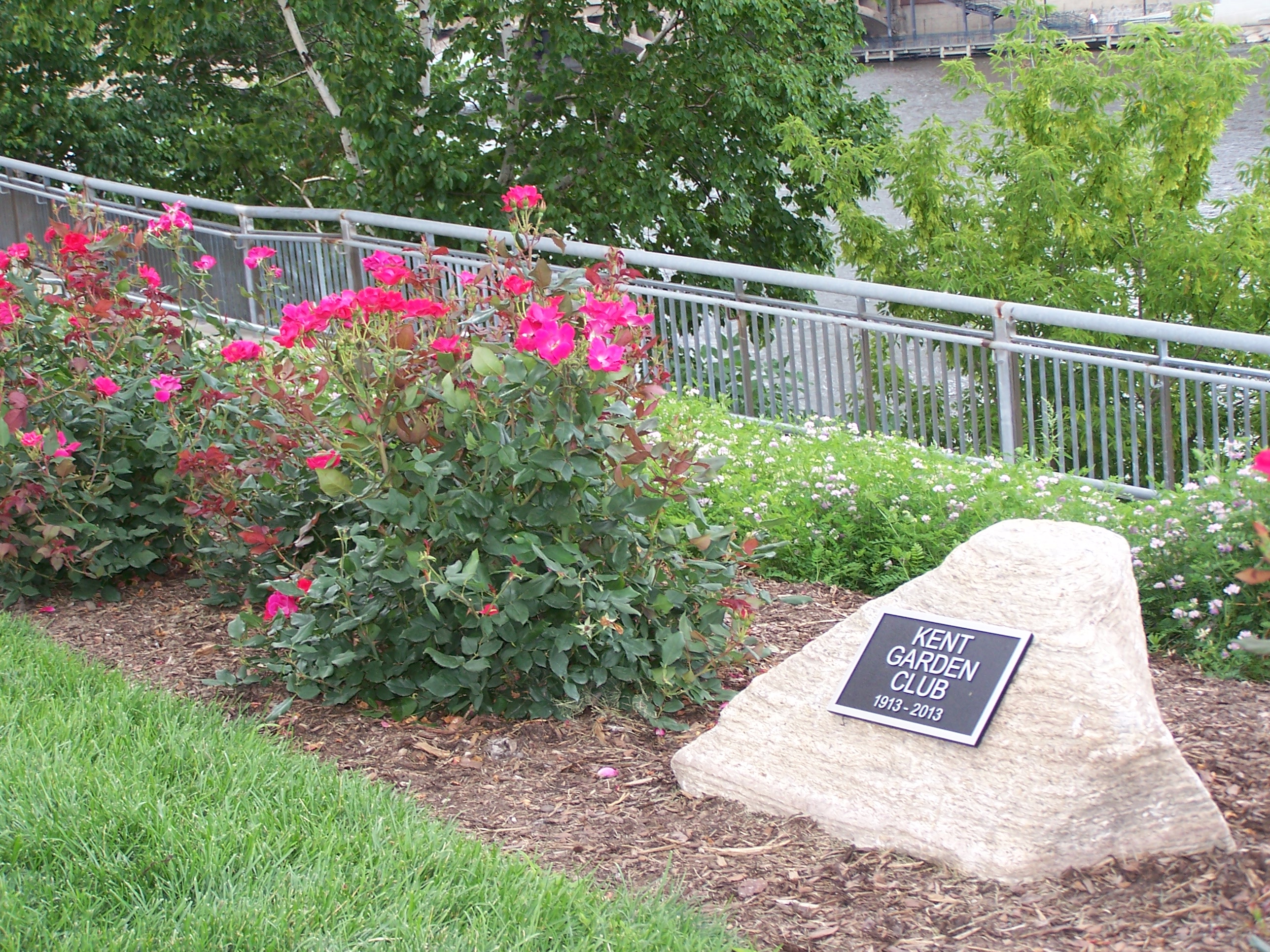 There was also an exhibit at the Grand Rapids Public Museum dedicated to the memory of those members who have added so much to local, state and national leadership in horticulture. Our membership has been instrumental in such areas as the hybridization of daffodils, the preservation of wildflowers, the planting of highways, the improvement of the environment and the conservation of our planet's natural resources. Roses and boxwood were planted on the museum's grounds and dedicated in June.
KGC has participated in flower shows since its inception. To continue our celebration "Jubilee Celebrating 100 years 1913‐2013″ was held at the Frederik Meijer Gardens. The show included designs, horticulture, special exhibits and a youth division.
After 100 years of gardening fellowship, Kent Garden Club remains strong. New members continue to be added, projects expanded, education dispersed and comraderie abounds. Those fifty founding women put in some very strong roots that have helped KGC to flourish to this day and will hopefully help it bare fruit for another 100 years.