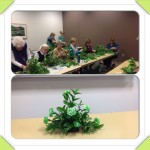 KENT GARDEN CLUB
PROJECTS, COMMITTEES and CLASSES*
SOUTHWOOD ELEMENTARY SCHOOL–Members work with teachers and students in the renovation of raised beds, planting and teaching about square foot gardening.  Students and parents tend the vegetable and pollinator gardens.
FLORA FANS STUDY GROUP – Members meet casually on various topics regarding horticulture and landscape design.
FLOWER DESIGN – Classes in all forms of floral design, from simple arrangements utilizing common flowers, to the intricate designs featured in many standard flower show classes.  Participants learn designs, plant materials, flower conditioning, container selection and use of mechanics.
FLOWER SHOW – The Committee plans and stages a Standard Flower Show (every other year), including design, horticulture and educational exhibits.
GARDEN THERAPY–Ken-O-Sha – The Committee plans and assists special-needs students with crafts and projects relating to nature and horticulture.
GARDENING ON THE GRAND – The Committee works on the GR Public Museum grounds to plant and maintain the landscape and KGC Anniversary Garden as a civic beautification project.
GARDEN TOUR – The Committee plans and coordinates a Garden Tour of home gardens and/or public landscaping for community education of plant material and design.  This is a club fundraiser.
HABITAT FOR HUMANITY – The Committee works with the local Habitat for Humanity organization to provide landscape design, materials, planting and maintenance information.
HOLIDAY LUNCHEON – The Committee arranges for our yearly holiday luncheon in December, including menu selection, table arrangements and entertainment.
HISTORIAN – Members collect photographs and materials pertaining to club activities to maintain the historical scrapbooks.
HOSTESSES – Every two years, members are called upon to provide snacks and decorative arrangement at business meetings.
MEMBERSHIP – The Committee promotes and welcomes new members and maintains records of all members, their membership status and participation in activities.
NEWSLETTER – The Editor publishes the KENT THYMES, a monthly newsletter that includes current information on members and club activities; and articles on floral design, horticulture, environmental issues and nature.
SPADE BRIGADE – Members who plant and maintain KGC gardens throughout the community.
WEBSITE – The Committee is responsible for keeping the website current on club activities.
WREATH SALE – The Committee organizes and coordinates the annual Wreath Sale, including suppliers, advertising, promotions, and order pickup.  This is a club fundraiser.
YEARBOOK – The Committee compiles information and produce the club membership Yearbook annually, for distribution in June (the beginning of the fiscal year).